Why a membership is the right thing for you
The ICES Network is a mix of Industry Experts, Leading Academics and Top Students. This blend gives a multitude of opportunities for all our stakeholders. Created by KTH and 6 founding Companies over a decade ago, ICES continues to play an active  role in the intersection between Industry, Academia and Society.
In an ever changing world, ICES is spanning multiple industries and technology domains. Over time certain topics become more frequent then others. Our members have a strong voice in setting the agenda and forming our actions.
Networking
Maybe obvious to some but still an amazingly important aspect. The opportunity to be able to listen to other members sharing their insights, findings or expertise is something that is hard to put a value on. And the rule is simple, the more you give the more you get in return.
ICES offer a broad range of learning and networking activities every year, ranging from workshops and seminars up to formal trainings and conferences. Check out the Event calendar to see what's in the pipeline.
Each group has its own dedicated theme and agenda to make sure that the group members get the most out of their participation.
The Competence Groups are open to employees of Gold and Silver Members.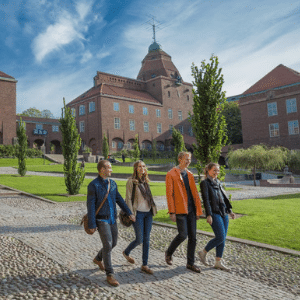 Find Talent
To help Swedish Industry to stay competitive, a key driver for ICES is to help our members finding people with the right skills and an innovative mindset. For that we have different mechanism, like the "Pizza with an Engineer" event, in place for letting member companies and students interact.
The Competence Group for R&D Managers is a sweet spot for devoted people to meet and to get new ideas and inspiration. We have our meetings 4-5 times a year.
Gold Members could combine all the befits of the network with a seat in the board. A seat that gives great opportunities to influence the agenda. Your employees also have access to all our competence groups. This membership give unlimited number of seats at our events and seminars.
Silver Members get access to all the benefits of the ICES Network. You will also be invited to give your input on our future agenda. Your employees also have access to all our competence groups. This membership give you up to 10 seats at our events and seminars.
Bronze Members get a lot of networking and learning opportunities. Many activities are free while some come at a cost. This is a great choice if you are looking for an easy way to extend your network and get access to plenty of knowledge. This membership give you up to 3 seats at our events and seminars.
On top of the daily hands-on activities, ICES also work with topics of a strategic nature.  These are topics that aim to keep Sweden, its society and its industry as prospering and competitive as possible. This is a domain that we encourage all members to participate in, especially if you want to make a difference.
Influence our Education – As a founding partner KTH have a strong interest in having a close dialogue with other members on how to further develop the content of its education or where to focus research efforts.
Influence our Politics – ICES also play a role in political questions. We organize meetings with relevant Ministers and Authorities.
Influence our Society – ICES writes and publish texts and articles with the goal to be a voice in the ongoing debate.
Join one of our Work Groups to take a role in our strategic work.