ICES/Hi2OT workshop on iIoT Roadmaps
2019-11-27 @ 17:00

-

2019-11-28 @ 18:00

Free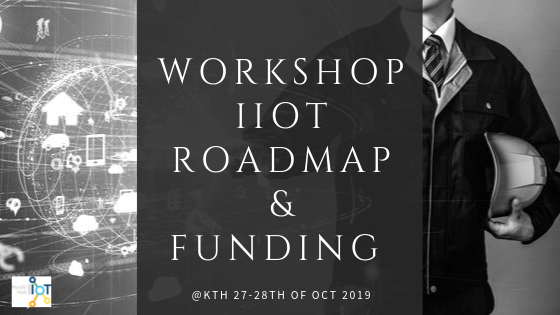 What is happening in IIoT, AI and Fog computing now and in the future.
We want to welcome Hi2OT and ICES Members to this one-day workshop on iIOT roadmaps. We will also cover related roadmaps within AI and Fog Computing. We will start off with a nice dinner on Wednesday the 27th. The topics for the workshop will cover trends and roadmaps within IIoT, AI and Fog Computing combined with funding opportunities and EC frameworks and initiatives.
Martin Törngren and Paul Pop will facilitate the workshop with support from our keynote speaker Haydn Thomson. Haydn will, based on his experience and insights when it comes to ongoing and future initiatives, give an overview of the existing and upcoming industry and EC frameworks. The purpose of the workshop is to develop a synthesis of the presented roadmaps based on the views of the participants. Haydn Thomson is an entrepreneur as well as an adjunct Prof. and is working closely with the EC. He was also a partner of the CPSoS project.

Why you should join
Fresh insights on current roadmaps and agendas on IIoT, AI and Edge/Fog computing packed with;
– Insights into Horizon Europe – the next EU framework program
– Insights into research perspectives from the top Nordic technical universities in these areas
– Meetings with peers to discuss joint research opportunities and collaboration
– Developing a synthesis based on the views presented (including existing roadmaps) for follow-up actions
This workshop is open to members of the Hi2OT project and the ICES Industry Network.
Program
Wednesday November 27th
Dinner and social activities starting at 19:00
Thursday November 28th
8:00-9:00 Morning Coffee and networking
9:00-9:20 Introduction by Paul Pop and Martin Törngren
9:20-10:00 First Presentation
10:00-10:30 Coffee break
10:30-11:30 Presentation on IIoT roadmaps – Haydn Thomson
11:30-12:00 Introduction to the Workshop – Martin Törngren
12:00-13:00 Lunch and poster session
13:00-13:30 Setting the scene – 5 min Presentations
-Paul Pop, DTU
-Martin Törngren, KTH
-Michael Berger, DTU
-Vesa Hirvisalo, Aalto
-Amund Skavhaug, NTNU
-Flavius Gruian, LTH
-Erik Larsson, LTH

13:30-15:30 Workshop Session. Coffee and Swedish fika will be served during this session
15:30-16:30 Presentation of workshop outcome

Sigup by click the button "Going" below. Last day for signing up is Friday 22nd of November.